Risque Last Updated, July 23, 2014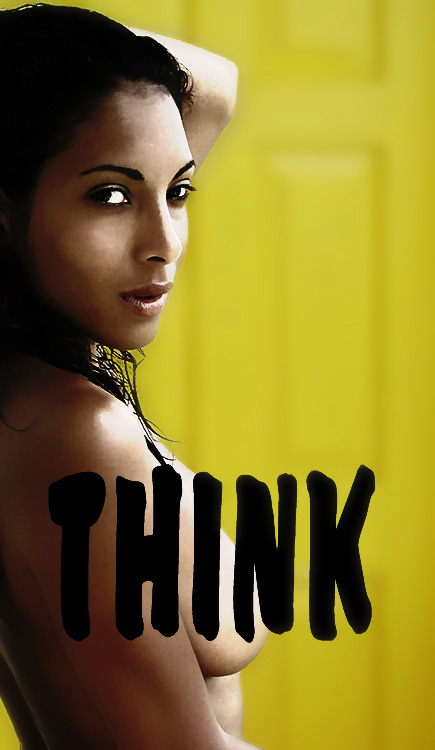 Of course wrapping your head around all of the sites, personalities, and experiences that make up risque.com … well … that can be a pretty tall order. So we'll try to be brief. First of all, we have an extremely difficult time simply being brief. You should appreciate that from the outset. We've been operating our little internet commune for better than a decade now, and the list of contributors spans an amazingly diverse range.
Essentially we report on the adult industry "from the inside" – a fact which actually makes some sense because the "inside" parts of adult entertainment seem to garner a significant degree of attraction, for whatever reason. We've basically been blogging since the concept had but minuscule recognition in an extremely geeky community. We have a social network of unique (and even potentially erudite – oooh) dimension. We enjoy sharing; think of it like that.
If you were anticipating a sales pitch for the membership site, we can give you the bullet points you might expect:
22,000+ PAGES of Completely Personal Experiences
Over 325,000 Diary Entries & Photos of the Adult Industry in Action
More than 96% EXCLUSIVE Content (Industry Conventions y'know?)
Thousands of cutting-edge Video Segments (and some odd ones)
Follow the "typical" and very personal Lives of Adult Industry "Prose"
Read Even More Risque Verbiage?
Fairness dictates, however, that we be very clear about what we "do" around here, which explains the rationale behind this rather diverse section out in the free area of the Web. Certainly you have to be of legal age to view the vast majority of the Adult Diary that we publish. Even aside from that, though, you should understand that we traditionally use a lot of words in our presentations. You can skip them all and just look at the pictures and videos (and listen to the audio recordings) of course, but if you're looking for typical porn site fare … honestly, we're not that. We have been working in the adult movie business since 1990, however, and over the years many people have found the diary of the experiences entertaining to say the least.
When you never pretend to be anything that you are not, it becomes much easier as a general principle to remember what you are. That can be handy in life.

If you think we might be a group worth hanging with for a bit, use the search function up top to look around and see what you can find. Naturally, on the inside, fun little picture of Dee like this one get much bigger. Of course you could always register and see some of the sample entries to see exactly what we were doing at a few times over the years, that's fun too. We created the "Free Side Blog" just for this purpose, in fact. You have to register (for FREE, obviously) to see the posts, but that's about it. The registration will entitle you to receive our newsletters, but you should know this about that: We have been doing this Internet thing for almost 15 years now, and we have never once sent out a newsletter. Still, one can dream.
Or you could click on any of the years on the Risque History Page and just randomly pick on some months. Surprise yourself. As we say, never underestimate the value of serendipity.
Consider us …
Covering the Uncovered …
While Keeping Them Uncovered …
Actually …
Check Out Our Latest Free Risqué as an Example
Tractor Power
by John Dearest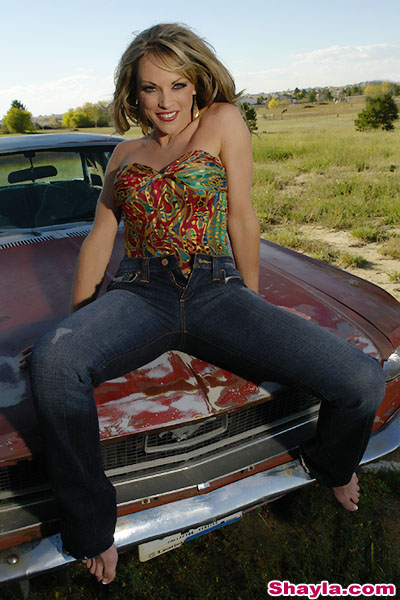 Shayla doesn't play the Colorado Country Girl card very often, but lest we forget her roots, we do try and bring in a little native charm every once in awhile. Considering we have a more or less ongoing debate about whether "sexy" or "sexual" sells better in adult, these photos worked extremely well. [We do not in fact have an ongoing debate about this topic. If you want to be a "superstar" in the industry you must learn both aspects of your femininity, but you will find it much easier to make an impact quickly if you fit the "sexy" mold rather than a "sexual" one — odd as that may sound. If you think about it, sexual connotes much more of a physical act, that let's be honest pretty much every woman knows how to accomplish, at least for camera. Despite the gynecological emphasis in some films, however, the eyes/looks of the woman will be a lot better barometer for her potential success when she's new. … The reason we do not really have an ongoing debate about this point is simply that some of the newbies haven't figured it out yet. They debate. We already know.]
Posted in:
The Risque Road
Read more...
0 comments
---