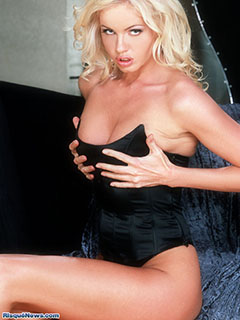 [Nearly eight years to the day have passed since we first ran this story in the members' section, but we were on set recently talking to a young woman considering a contract with a "new" company making lots of promises. We could have simply set her up with membership access and pointed her to the correct page on the site, but honestly it seemed easier just to post the story out in the free area. We have chosen our friend Lorraine "Tall Goddess" Sisco to illustrate the story because talking about paperwork and promises can be, well, just about as exciting as it sounds. Pictures of pretty people always help. Also, Lorraine happens to provide topical relevance as you will see should you decide to read along. Bet you can hardly wait…]
In for a Penny, Call it a Thousand
by Obsequious Knot
Well, well. According to AVN yesterday, Cassidey (Cassidy, Cassidey Page, Bobbie, Annie Bunz, yada, yada … you remember her) has championed another "amicable split" in a sudden line of them for Ninn Worx_SR. Don't you just love it when people talk about how friendly they are when they're doing everything they can never to have to see one another again? It sort of gives you faith in humanity, doesn't it?

And in an atypically public fashion, Michael himself had something to say:
"That last scene that she did for The Four with Reno … that was worth it. At the beginning of this, I said, She's gonna break my heart. I knew this was going to happen. And dammit she put in a beautiful scene!"
Uh-Huh. Although a genuinely caring and well-meaning individual, Michael doesn't gush. He can attribute no small amount of his success in this business to savvy, however, and he impressively smoothly works in yet another plug for the NW_SR "Hope to be Epic, Bet the Bank on" release due out this summer, The Four.
Then we hear from Ms. Sad-to-be-Gone, Happy-to-be-Away herself:
"I really enjoyed working with everyone at Ninn Worx_SR, particularly Michael. And working on the epic The Four … was a rewarding challenge that I'll always feel proud to have been a part of."
Got it. The company signed Cassidey to a Contract Star, promising four movies in addition to co-starring in their Big Production for the year with the other four NW_SR contract players. Four months later they've shot some miscellaneous scenes with her and finally finished said Big Production. (The Meet [So and So] series is Ninn Worx language for "Here are five scenes that have nothing whatsoever in common beyond the performer on the box cover, but we do promise to try to string together some semblance of rationale with "interviews" and such — that is, provided we have them or can be bothered to shoot them." See why I never got to do PR for Ninn Worx?) And the star never really got even a little bit of the promised "promotion" which was a big part of why she signed the deal in the first place. … But everybody's just copasetic, bordering on perky, about the situation. Right.