Through Her Eyes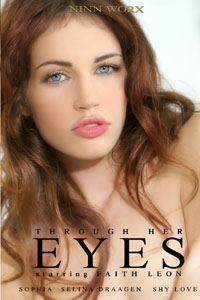 Today was Day One of a two-day shoot for a feature starring Ninn favorite Faith Leon. Michael was thrilled with the cast, crew, and costumes; however he was having a difficult time deciding what the movie should be called. Director Ninn thought Prague might be a good title because the pickups were being filmed in Prague.[After hearing the "plot" of the show from Michael I felt certain we should name it Too Deep for My Puny Brain, but it had too many words for Michael's taste. Oddly, he also balked at the much simpler, Convoluted. What do I know? I'm just the web guy.] Then he thought Wardrobe might be a good name because Faith had tons of wardrobe changes throughout the movie. He played with the idea of Faith Leon.Since it was Faith's movie, why not use her name as the title? But he finally decided on Through Her Eyes. While Faith has an amazing body and a gorgeous face, her eyes are beyond incredible. [Sadly, this meant that the "other" Through Her Eyes that we've been holding in the story queue, more or less, now has to have a different name. This should be fine, though, as the version we found in the office potentially starred Wanda Curtis and Angel Cassidy. Old scripts may not be all that interesting, but they do have a certain "carbon-dating" value.]
We were shooting at a mansion high in the Hollywood Hills. The place was huge, but parking was nonexistent. Lucky and I hitched a ride in with Michael Ninn. There's ALWAYS a parking space for the Director! (And owner of the company!) [And advanced lazy people will never fail to recognize the weak link in the annoyance chain. Consequently, if only lazy people were allowed to vote we'd probably have a lot different representation in our government centers. Of course the lazy people wouldn't care, because that's just the way they are.]
The first person I saw on set was my buddy Eric Masterson. I haven't seen him much since he and his wife Wendy Divine moved to Florida, but I've missed him a lot! He's one of my favorite guys in the biz — handsome, nice, sexy, polite, smart, and very down to earth!
I usually just ask the girls my "patented" questions, but Eric's special, so I asked him if he'd mind answering a few questions. He said he'd love to.
Eric chose his stage name from a dead superhero's (Thunderstrike's) alter identity. I asked Eric if Thunderstrike is his favorite superhero. He said that Iron Fist is his favorite. He just liked the name Eric Masterson. [I will now freely confess to a complete lack of knowledge about anything these people are talking about. The Editor in me wanted to cut it all out as meaningless. The Supportive part of me wanted to call Eric and DM to try to get some clarification on these obviously relevant issues. The Lazy part of me just wanted Krispy Kremes. Guess which part won.]
Eric has been in the business seven or eight years. His favorite condiment is either mayonnaise or guacamole. "It's 50/50," he said. [Hint: Be careful of the dip for your chips at Eric's house.]
His favorite computer font is anything italic. Pets include two cats – Aries (named after the Greek God of War because he was very destructive as a kitten), and Smeagol (Gollom's name from Lord of The Rings).
When I asked him if he'd use a nuclear weapon on Iran and Pakistan, Eric answered, "In a heartbeat". [OK. Eric doesn't get to be Dictator either.]
He said he always turns off songs by Snow Patrol and Cold Play when he hears them on his radio.