Le Miroir de L'âme
by Oui We Can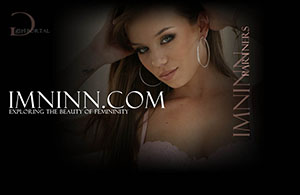 In case you're curious, and don't happen to speak much French, the title here apparently means, The Mirror of the Soul. We ran across the phrase in the course of working on a Broadcast Network project that we're doing for Penthouse, and having learned its meaning, felt it fit perfectly into a brief discussion of what would technically be the "current-day" Michael Ninn. You see, most of you probably don't think about it much either, but the lawsuit between Michael and Spearmint Rhino has been going on for a year and a half now, and honestly shows no real signs of reaching a conclusion — favorable or not — any time soon. You see, when you have as much money as the owner of a giant strip club chain, and you're really irritated, you can make life pretty miserable for anyone that has the gumption to try and criticize your actions. Now we're specifically not saying whether or not Michael is right or wrong in the case here, but so far no one's even heard about the facts behind the issue. The lawyers are well into seven-figure fees, and all they've been doing so far seems to be sneaking around the Civil Procedure morass, trying to get rid of the case without ever actually talking about the merits of the claim at all. [ … There was a bit more ranting and raving here about the apparent injustice in the "American System of Justice," but I'm just going to assume you all get the point. It's bad enough when we're forced to talk to lawyers. We should really limit talking about them as much as we possibly can. … Let's just move along, shall we?]

At any rate, being a virtual poster child for the "Right-Brained" type of person, naturally it hasn't been possible for Mr. Ninn to simply sit idly by and fret about legal fees, system nuance, and all the potential real-life ramifications. Nope. Those creative types got to Create, don't you know.
Now once realizing that our own historic creative outlets seem to just keep adding fuel to an already out of control legal blaze, most of us might have just limped into the shelter of one or our creative friends and tried to go quietly about our mere existence for a few months (or years). But we're talking Michael Ninn here, so he obviously never gave that particular scenario a thought.
No, Michael got together with Twenty-Five other artsy types that run some of the most successful soft core web sites on the Net, and then spent the last five months building what has to be the most unique portal we've ever seen for people that simply love beautiful women.
[We try not to be overly judgemental about what people do with their own web sites, as we all follow our own moral compass. That said, IMAGES DELETED on the Free Side of our particular doman.]

It seems that those artsy types really like to hang out together, and if you saw the length of the average call on Michael's cell phone over the last few months, you'd know exactly why we say that. IMNINN. TheyCNINN. WeAllBNINN Groupies. You get the picture.