Take the Meeting
by Just Plum Nom
Most of us have "meetings" in our lives. [Depending upon where we work, we could actually spend so much time having meetings about what we need to do that we never actually have time to do those things.]
Most of us, it seems safe to say, do not necessarily enjoy all of these meetings. That said, most of us do not have the excellent fortune to live in our ever-refreshing world. You can't be shy and be in the adult industry, no matter whether you stock warehouses, create graphics, or have gang bangs for a living. We have a pervasive in-your-face sort of mentality just by the fact that we deal quite openly — and liquidly — with what most of society still views as private and intimate subject matter. [Yeah, going out with industry people can be quite an event depending upon how many "regular" people can overhear the dinner conversation.]
Basically, you have personalities in this business.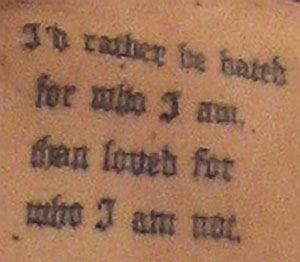 Yet perhaps surprisingly, only very rarely do we get actual insight into any of those personas in any real sense. When producers put their money on the line, they do not as a rule tell the crew to spend a good deal of time filming people talking to each other. A few of the people will be quite helpful by purchasing tattoos such as the insightful one pictured here that we noticed on Randi Wright for GingerLynnAuctions, but that doesn't happen all that much. [Randi also sparked a debate on the proper use of "who" and "whom" which ended up in the grammatical analysis of subjective vs. objective properties. We decided to spare everyone that, because we want to start the new year off pleasantly.] Generally we might learn how they like to have sex, or at least how they sound and move around on camera, but to get more, you need a producer with greater vision.
Of course if you paid attention to the Kristal Summers post yesterday, you probably picked up on the fact that the "producers" at risqué actually place a high value on personality. Raw "skills" can only take you so far around here. [Yeah, the new ChickaDee has both Photoshop chops and a penchant for puns. She'll have fun here. Also, we may be sorry.] Since most of us have been in some way involved in the upcoming revamp of shayla.com, we thought we'd offer a demonstration of what a single modified for the free side image can say without even a tattoo in sight.