Ela Darling with Live Nerd Girls
by Nobody Special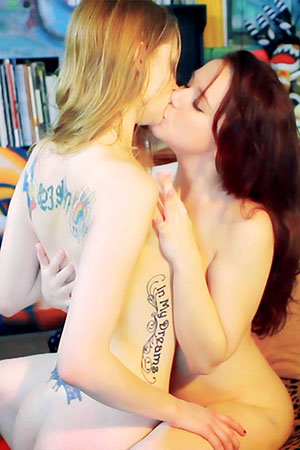 We started off simply trying to sing the praises of Ela Darling, but we should at least try to mention all the apparently "nerdy" things in the story of this show, presumably. Although it did occur to us that it would really help to have a more clear definition distinguishing between Geeks and Nerds — or Nerds and Geeks, depending on which you value more. Both groups got beat up and/or ignored in high school, so we're not really sure which might rank higher on an objective scale. In actuality, though, the whole point of each mentality stresses individuality over "popular" group mentality. In fairness, though, and out of respect to the general human psychological condition, the most common response to being ostracized has to be, "Well, who wants to be popular anyway?"
Certainly we could have missed a few (or more than a few), but the eagle Nerd/Geek eyes around here spotted — if you'll pardon the expression in this all female environment — the following areas of alleged interest.
Star Trek
Star Wars
Harry Potter
X-Files
Anime
Dr. Who
LARP
We debated as to whether "drawing" qualified as a "Nerd" interest, but left it out of the list, perhaps because by that time our attention was drawn to the amount of women sincerely interested in other women on display. It's a porn movie; maybe we should not try too much to give it a depth it neither sought nor deserves.
We did find a fascinating graphic on the whole Nerd vs. Geek debate on MastersInIT.org, because some of us actually read that. If nothing else, that mere fact most definitely throws us into one of those categories or another. We accept.