Of Vice and Men
by Nobody Special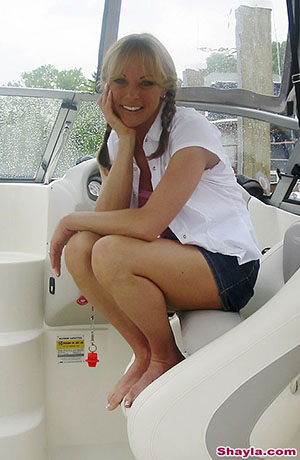 Take away family members and think about how many people you've known for 18+ years and still talk to regularly. For most of us, that list probably won't be a large one. If, for example, you won beaucoup scholarships in your young life, went on to some stupidly expensive college, and ultimately graduated from law school and passed the bar exam — and then you went into the porn business — well, odds are good that what passed for "friends" in those early years didn't actually turn out to be all that, well, friendly. … Hypothetically, of course.

Without getting too far down the "gosh I remember when" road, I will say that the woman we're sort of "officially" (re)announcing today actually first joined our little group well before some of the people making porn movies today were even born. (And our "group" certainly fit the "little" description back in those days.) It has been a long and eventful 18+ years that my friendship with Shayla LaVeaux has traveled, and quite honestly I enjoy her every bit as much today as I did when we first met in a strip club in Colorado. I did promise my friend of a mere 10+ years, D.Minion, that I would publicly tell the story of meeting Ms. Shayla here, so if you really don't care, you should probably just stop now. We do go on sometimes. …

Before Shayla was Shayla
I mentioned that this introduction took place in a business of scantily-clad ladies already, but I need to give you a bit of background, so bear with me here (pardon the pun). I did happen to be a practicing attorney at the time, and since I'd gone immediately into private practice (Hey, I don't like talking to lawyers any more than the rest of you. What can I say?), I ended up with clients in a wide variety of professions. As it turned out, I generally had quite a few active cases involving exotic dancers because, "oddly" (from the way my clients used to describe it), I didn't actually care if the women dated me. I cared if they paid me. … But moving on to the woman at hand, again, so to speak.
A guy that used to work here, back when "Steve" had to be "SteveD", introduced me to Shayla in the beginning. She'd had a bit of a problem with a Bachelor Party and Striptease company that she owned when a couple of her girls had apparently started the "Strip" part of the entertainment before they actually got to the "inside a private room" part of the equation. Some people just have no sense of humor about some things, and Shayla needed a little help with the System in which she now found herself. When she called the office to set up an initial meeting, I agreed to meet her later in the week at the club where she worked, a few minutes before she officially started her shift. (Gee. Come to think of it, I have long thought strippers much more interesting than attorneys. I wonder how I ended up in this job.)