Some Ifs, Ands, AND Butts
by Nobody Special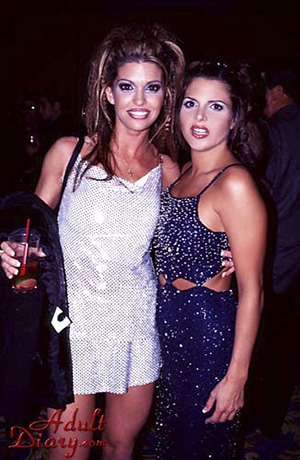 Just so we're clear at the outset, we happen to mean the Taylor Hayes Haze in a very positive way, in case the title confused anyone. As you would likely expect, the porn business brings out some rather interesting personality quirks – particularly for those actually in front of the camera. According to our database, we haven't done a great deal of talking about Taylor Hayes, so we'll add that to the list, because Taylor happens to be quite interesting, as a matter of fact. For example, when she first came to Los Angeles she called the house from a gas station a few blocks away. She'd decided to get into the business, so she put all her worldly belongings into the back of her car and driven across a couple of states to the address on our business card. Back then the address was a mailbox place, and apparently the gas station next door didn't seem like where she wanted to spend the next few weeks as she got settled in.
Go figure. … Some people. …
For the purposes of today's quick "Toss to Tenaya", however, we'll just settle for a quick account of her decision to dash away from VCA and take up task with Seymore Butts. Consistent with what you may have learned on his Showtime series, Family Business, Seymore does in fact happen to be a really nice guy. When he expressed an interest in dating Taylor, I can't say anyone at the house was very surprised. It's a small business in many respects, and both of them spent so much time making goo-goo eyes at each other at dinner parties and such that most of us found ourselves simply glad they finally got it over with and decided to move in together. By the time this happened, though, Taylor had signed her contract with VCA and plans were well underway for her to star in her first big movie for the company. This one took a great deal of pre-planning, and it had all the earmarks of being something groundbreaking, in a world where "special" remains rare – no matter what a director may tell you about their latest venture.
I was headed out of town to spend the Fourth of July with my parents (a really fun experience back then, because at that time you could buy dynamite – or so it seemed – for your celebration). We knew that Seymore was planning one of his "Pool Party" events for the weekend, a festivity he regularly turned into a movie release back in those days. I remember that the last thing I said to Taylor before I left for the airport was something along the lines of, "Whatever you do, don't be in that movie. Have fun. Get crazy. But do NOT be on film for a company other than VCA. You're under contract." (You can see this coming, right?)
The Onset of the Taylor Hayes Haze — (sniffle)
To keep up some semblance of a pace here, let's just fast-forward about a month. Taylor had notified us that she didn't want risqué to represent her anymore, and once the VCA owner was satisfied that we were all perfectly fine with that decision, he was on his own with Ms. Hayes. They had also completed the great deal of pre-production work on what was to be her first big feature for VCA – fittings, readings, castings and even body scans for this one. However, just a few days before the actual shooting was to commence, it seems that Taylor went over to visit Russ, the aforementioned VCA owner, and let him know that she'd decided she wanted to quit VCA to become the new "Tushy Girl" for Seymore.
[As you might imagine, the Members' Area has a lot more "freedom of movement" – so to speak. Consequently, we had to delete many, many pictures here out on the free side. Although illustrative, and certainly highly entertaining, it simply would not be appropriate for potentially sensitive eyes. We ethical webmaster types endeavor to protect those. Tenaya was taking a shower. What can you do?]